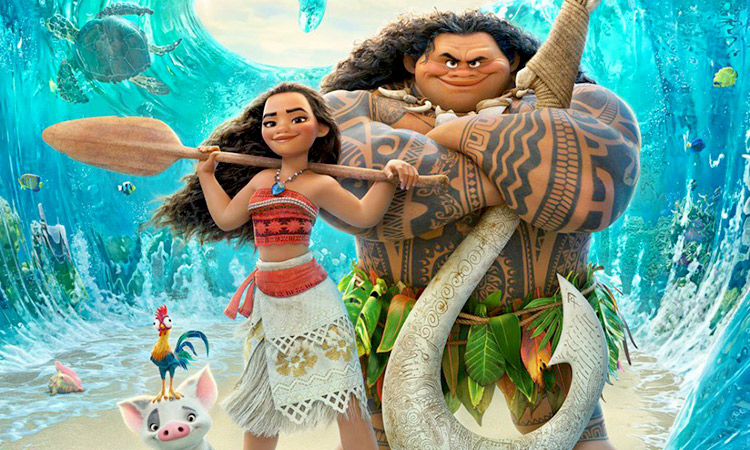 Over the years, the mega production house Disney once synonymous for its 'Princess' films diversified into offering different cinema. Now after the 2013 film FROZEN that introduced a new Disney princess named Elsa, we see Disney reveal yet another princess of sorts with MOANA.
Basically, Moana, an animated musical fantasy adventure film featuring the voices of Auli'i Cravalho, Dwayne Johnson, Rachel House, Temuera Morrison, Jemaine Clement, Nicole Scherzinger and Alan Tudyk, tells the story of Moana, the strong-willed daughter of the chief of a Polynesian tribe, who is chosen by the ocean itself to reunite a mystical relic with a goddess. When blight strikes her island, making coconuts rot on the trees and fishing boats return empty, Moana sets sail in search of Maui, a legendary demigod responsible for this disaster, and hopes to save her people. But will the film that sets up a whole new world work with the audience is what we analyse.
MOANA starts off with the story of Maui (Dwayne Johnson) a demigod of the wind and seas who with a magical hook manages to pull islands out of the sea, ending up stealing the heart of Te Fiti, an island goddess who created life. With her heart gone, the darkness sets in, laying waste to the living while slowly spreading across the world. In the meantime, Moana Waialiki (Auli'i Cravalho), a sea voyaging enthusiast, and the only daughter of a chief in a long line of navigators, leads an idyllic life oblivious to the fate that is headed her way. When the darkness starts to encroach on her island, whose chief Moana is set to become, the Young Turk must set off on an epic journey to find the heart of Te Fiti, locate Maui and replace the heart.
Right from the start, the viewer is thrown into a make believe animated world where everything seems more colourful if not larger than life. The ...read more