Bollywood Movie Review
Edgar Wright is a director whose style of filmmaking is something unique to himself. Blending visual aesthetics with black comedy to some really great musical score, his movies are a real treat to watch. I have been a fan of his Cornetto trilogy, especially Shaun of the Dead and Hot Fuzz. After a fruitful collaboration with Simon Pegg and Nick Frost, he is working with a different cast in his latest heist thriller, Baby Driver. The movie has got some glowing reviews in its early screenings and is all set to release this week in India. I myself got the opportunity to watch Baby Driver in an early show and this is my review….
What's it about
Baby (Ansel Elgort) is a very brilliant getaway driver who works under a dour-faced Doc (Kevin Spacey), helping his men (Jon Hamm, Eiza Gonzalez, Jamie Foxx, Jon Bernthal) escape successfully after robbing banks. After a near fatal accident that killed his parents, Baby suffers from tinnitus that makes him hear noise when there is none. So he has to listen to music always to get his job done. He wants to quit working for Doc, especially after he falls for a beautiful waitress Debora (<a target="_blank" rel="nofollow" ...read more
Salman Khan's Tubelight released yesterday (June 23) amidst much fan fare and a huge buzz. And while Salman Khan has delivered a top notch performance, Tubelight has failed to impress quite a few people. The critics and the public have been divided and gave us some really mixed reviews. And looks like it is the same scenario with the International media as well. We scanned through a few reviews from the overseas countries and while all of them have given us some good take aways from the film, they have even spoken about the shocking flaws. Here are a few excerpts from their reviews:
# Gulf News – Tubelight is one of those films that shamelessly attempt to emotionally manipulate viewers into being sentimental wrecks. An incredibly cute child to pull at your heartstrings, tonnes of melodrama and a Salman Khan who is at sob-risk, are some of the takeaways from the movie. Now, an ardent Salman fan may forgive director Kabir Khan for his unsubtle cues, but others may find its contrived nature grating. (ALSO READ – Tubelight public review: Salman Khan's innocent act has touched an emotional chord with his fans- watch video)
# Khaleej Times – ...read more
TV News and Gossip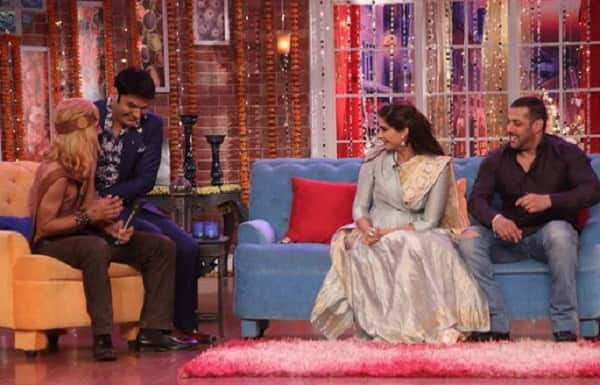 A quick recap of tonight's episode of Colors' popular comedy show…
To say that Comedy Night With Kapil was entertaining tonight would be an understatement. The popular comedy show, had Salman Khan and Sonam Kapoor visiting Kapil Sharma and his crazy family, which by the way was extended today following the joint-family motto of all Sooraj Barjatya films. We know that Salman and Sonam are currently busy with the promotions of Prem Ratan Dhan Pyao and CNWK was their first stop. For those who missed the show, let us tell you, tonight's episode was nothing short of a laughter extravaganza.
Here's a quick recap of what happened on the show…
Funny side up…
There is hardly any need to mention that the show was a fun roller coaster ride. From Kapil to Sunil Grover to Ali Asgar, everyone was on full swing. The best part, however, was the fact that Salman out did them all. Oh Yes! The actor was totally in his element and cracked us up more frequently than we expected him to. He even joked about the negligible collection his film Hero made. Yeah, he really ...read more
[td_block_social_counter custom_title="Hot in Bollywood"]
- Advertisement -